---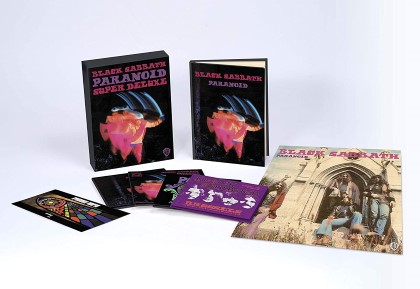 Black Sabbath "Paranoid (50th Anniversary Edition) Super Deluxe" 4CD + book deluxe edition
Tracklist
Original Album (WS 1887)
1-1 War Pigs / Luke?s Wall 7:55
1-2 Paranoid 2:48
1-3 Planet Caravan 4:29
1-4 Iron Man 5:55
1-5 Electric Funeral 4:50
1-6 Hand Of Doom 7:08
1-7 Rat Salad 2:31
1-8 Jack The Stripper / Fairies Wear Boots 6:14

Quadradisc Mix In Stereo 1974 (WS4 1887)
2-1 War Pigs / Luke?s Wall 7:58
2-2 Paranoid 2:53
2-3 Planet Caravan 4:48
2-4 Iron Man 5:54
2-5 Electric Funeral 4:56
2-6 Hand Of Doom 7:06
2-7 Rat Salad 2:34
2-8 Jack The Stripper / Fairies Wear Boots 6:04

Live In Montreux 1970
3-1 Intro 1:22
3-2 Paranoid 2:59
3-3 N.I.B. 5:45
3-4 Behind The Wall Of Sleep 6:04
3-5 Iron Man 6:24
3-6 War Pigs 7:44
3-7 Fairies Wear Boots 8:43
3-8 Hand Of Doom 8:31
Live In Brussels 1970

4-1 Paranoid 3:13
4-2 Hand Of Doom 7:01
4-3 Rat Salad 1:29
4-4 Iron Man 6:32
4-5 Black Sabbath 9:38
4-6 N.I.B. 5:49
4-7 Behind The Wall Of Sleep 5:28
4-8 War Pigs 8:04
4-9 Fairies Wear Boots 6:57


Description
PARANOID: SUPER DELUXE EDITION includes the original album, in addition to a rare 1974 Quad Mix of the album folded down to stereo, plus two concerts from 1970, from Montreux and Brussels. The 4CD set comes with a book with extensive liner notes featuring interviews with all four band members, rare photos, and memorabilia, a poster, as well as a replica of the tour book sold during the Paranoid tour.

Disc 1 – PARANOID Original Album(2012 Remaster) 1971
Disc 2 – PARANOID Quadradisc Mix in Stereo 1974
Disc 3 - Live in Montreux 1970
Disc 4 - Live in Brussels 1970

Material remastered by Andy Pearce and Matt Wortham
Disc 2 is the 1974 Quad Mix by Mike Butcher folded down to Stereo by Ray Staff at Air Mastering
Disc 3 was recorded August 31, 1970 at Casino de Montreux, Montreux, Switzerland
Disc 4 was recorded October 3, 1970 by RTBF at Theatre 140, 140 Avenue Plasky, 1040 Bruxelles, Brussels, Belgium

Also included is a 60-page hardback book, a band poster, artwork & liner notes and a replica 1971 Paranoid tour program.