---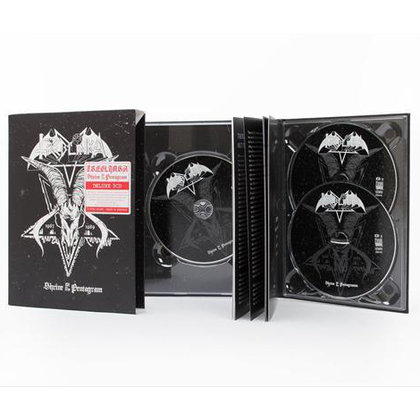 Treblinka "Shrine Of The Pentagram" Mediabook 3CD
Tracklist
CD 1:
CRAWLING IN VOMITS (demo)
1. Crawling In Vomits
2. Earwigs In Your Veins
3. Hail To Cruelty
4. Cadaverous Odour

THE SIGN OF THE PENTAGRAM (demo)
5. Nocturnal Funeral
6. Evilized
7. Necrophagous Shadows
8. Mould In Hell

SEVERE ABOMINATIONS (7-inch)
9. Severe Abominations
10. Earwigs In Your Veins

REHEARSALS
11. Hail To Cruelty (1989)
12. Earwigs In Your Veins (1989)
13. Mould In Hell (1989)
14. Evilized (1989)
15. Hail To Cruelty (2008)

CD 2:
LIVE AT ROY (November 20th 1988)
1. Crawling In Vomits
2. Earwigs In Your Veins
3. Hail To Cruelty
4. Cadaverous Odour

LIVE AT VITA HUSET (February 25th 1989)
5. Intro
6. Necrophagous Shadows
7. Crawling In Vomits
8. Mould In Hell
9. Hail To Cruelty
10. Earwigs In Your Veins
11. Evilized
12. Cadaverous Odour

CD 3:
LIVE SOMEWHERE IN STOCKHOLM (April 7th 1989)
1. Nocturnal Funeral
2. Crawling in Vomits
3. Cadaverous Odour
4. Necrophagous Shadows
5. Evilized
6. Hail To Cruelty
7. Earwigs In Your Veins

"SUMERIAN CRY" INSTRUMENTAL STUDIO OUTTAKES
8. Apotheosis Of Morbidity
9. Necrophagous Shadows
10. The Malicious Paradise
11. In The Shrines Of The Kingly Dead
12. Altar Flame
13. Evilized
14. Nocturnal Funeral
15. Where The Serpents Ever Dwell


Description
Before Swedish metal-legend Tiamat came to life under this name, they were known as Treblinka. The music can be described as a blackened form of extreme metal that back in the 80s were influenced by groups like early Darkthrone, Celtic Frost and Hellhammer.

This is the first ever official "complete recordings" release of TREBLINKA, one of most notorious death / black metal bands of all times.

Kingsize 3CD Mediabook.